Happy Thursday! All of us teachers are busy getting ready for new little kiddos, getting rooms reorganized and ready for the year all of that fun back to school stuff! Although we must admit, we haven't even stepped our pretty little feet back into our rooms yet. It's coming close though, and are so fortunate to have all of those fabulous blogs to get ideas from! We can't wait to get back and get our rooms put together so that we can put up pictures. Today the wonderful Erica from
Erica Bohrer's First Grade
is sharing a fantastic way to organize classroom jobs. Here is a great chart for you all to use.
Click
HERE
for your copy.
And make sure to visit Erica's fabulous blog!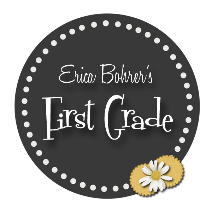 On a side note, if you downloaded our
First Grade Study Guide
, please re-download it. Oops! One of our fantastic followers found an error. Have a great day!